Last weekend, I drove to Asheville, NC to reunite with a friend from high school who was speaking at the arts and crafts conference. She lives in bustling metropolis Cody, Wyoming and is getting married this summer at Yellowstone to a guy who was born  on June 12, proving that all my friends secretly want to marry me.
She invited me to share her luxurious king bed. At every nightly turn down service, guests are bestowed samples from the spa. She was also bestowed a bottle of wine from the hotel, but had to give it to me because it wouldn't fit in her suitcase and since I am such a good friend, I took it off her hands. See those Mardi Gras beads? While touring downtown, we caught the end of a Mardi Gras parade because hippies love to party.
First order of business was to explore the historic section of the spacious resort in search of the pink lady, a permanent guest. We didn't find her. Speaking of historic things, the hot or not of yesteryear, My Daguerreotype Boyfriend.
Everyone jockeys for the prime real estate that is a rocking chair in front of a roaring fire. I wanted to roast a marshmallow in the worst way. Instead we sipped drinks from the bar and I got carded three times. It will be a sad day when I stopped getting asked for my ID.  
View from breakfast:
No trip to Asheville is complete without a stop at Tupelo Honey Cafe. As if two locations aren't enough, one is opening in Knoxville, TN. Hello biscuit and honey!
For dinner I ordered the vegetable plate. Only in the South is mac and cheese considered a vegetable. The mac and cheese was nothing to write home about, nor was the basic house salad, but the mashed sweet potatoes were sweet enough to serve as dessert. After one bite I regretted my decision in not ordering a fluffy stack of the sweet potato pancakes they are known for. On the bright side, I do have their cookbook and can make them anytime.
When not exposing my friend to Southern cuisine and sharing gossip about former classmates, we were shopping.  We popped in and out of shops like Minx, MIA (Made in Asheville) and bookstores like Malaprop's. At one used bookstore I spotted something I could wear on next casual Friday at work, a t-shirt that read "Drink.Smoke.Read.".
This is what I purchased at the Dillard's Clearance Center:
Not a damn thing. Why? Closed on Mondays.
---
 Magazines.com snuck in a $15 gift card into our Food Blog Forum swag bags. Magazines don't really thrill me, but what I can really sink my teeth into are cookbooks. So happy to find that I could put my gift card toward the purchase of a Tupelo Honey Cafe Cookbook.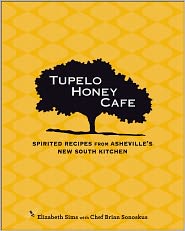 I've been to this famed Asheville eatery twice before and have loved everything. The fried green tomatoes and sweet potato pancakes were consumed on my last visit. Within 2-3 weeks I can bring a taste of Asheville to Charlotte.
FBFNash ladies, be expecting an invitation to dinner soon!
---
Realizing that I didn't have a clean shirt to wear for the 7 hour car ride back to Charlotte, I grabbed the Cheerwine t-shirt that Mary didn't want from her forum prize pack. (I was lucky enough to win a used Calphalon pot, though I could have really used a toaster). While en route to an Asheville eatery that had a wait time of less than 60 minutes, an enthusiastic hippie tour guide stretched halfway out of his bright purple bus to yell in my direction his adoration of Cheerwine. He then asked if he could give me a recipe for pot brownies. 
I've never made pot brownies, but how hard could it be?
1) Make brownies.
2) Add pot.
3) Eat until you have the munchies.
4) Repeat step 1-3.
---
Once again, Mr.LaMontagne has bypassed Charlotte and its vicinity when crafting his tour schedule. So, I must therefore get crafty and start a collection to be able to see him six hours and fifty seven minutes away in Nashville, TN, or Nashvegas to some. I've seen him thrice, always in Asheville or Hotlanta, a respectable two to four hours away, respectively. It's not just Ray I'd be driving practically cross-country to see. David Gray of "Babylon" fame will be there as well. Ah, David Gray takes me back to college.
So to sum up, I will not be buying groceries or using electricity between now and August 15th in order to see Rayla and Davey. The things I'll do for those guys, or won't as the case may be.
If I had it my way, I'd trade in my house and my job for the chance to follow Rayla's tour across the country for a year and then I'd write a book about it, 'My year with Jesus'. And then it would be optioned for a movie and I would naturally play myself in said movie because no one else could do myself justice.
---